Reducing Stress for Students & Families with Rachel Davis, NLP Practitioner, TEDx Speaker & Musician
You don't want to miss this live session with Rachel Davis! Join us to learn:
*Strategies for reducing stress in the home.
*Techniques for reducing anxiety in children.
*Creative ways to incorporate music in daily routines to create a fun and happy atmosphere.
Date: Monday, November 16, 2020
Time: 6:00PM – 7:00PM
For: Family Members of Students in a 21st CCLC Program
Place: Virtual Meeting via Zoom
To Join, use the following link from any digital device:
https://us04web.zoom.us/j/74402097808...
Meeting ID: 744 0209 7808 Passcode: 39Ffps
For more information,
Please contact the 21st Century Community Learning Centers Program
PCSD Department of Federal Programs
386.329.0543
UPDATE: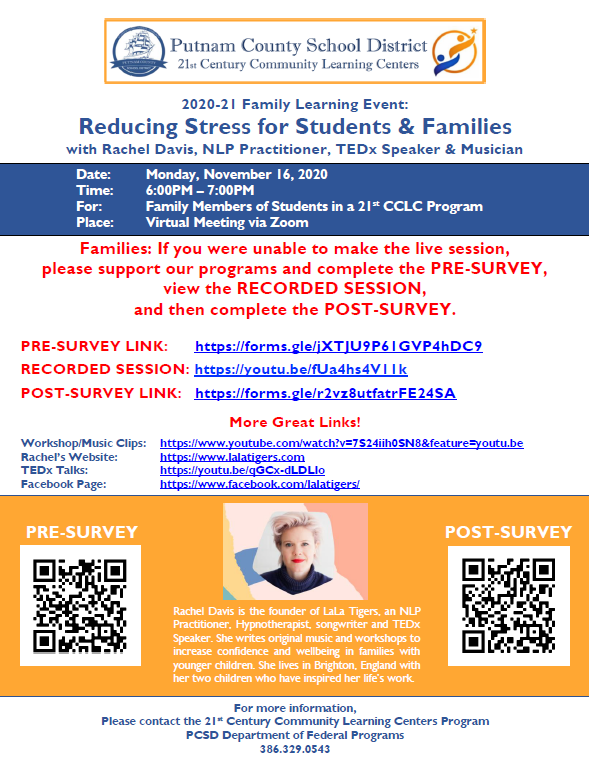 Families: If you were unable to make the live session, please support our programs and complete the PRE-SURVEY, view the RECORDED SESSION, and then complete the POST-SURVEY.

PRE-SURVEY LINK: https://forms.gle/jXTJU9P61GVP...
RECORDED SESSION:
POST-SURVEY LINK: https://forms.gle/r2vz8utfatrF...

More Great Links!
Rachel's Website: https://www.lalatigers.com
TEDx Talks:
Facebook Page: https://www.facebook.com/lalat...