On Thursday morning at the Putnam County Board of County Commissioner Board Room, PCSD celebrated a new Spelling Bee Champion!
Robert H. Jenkins, Jr. Elementary School student, Kaitlynn Wilson, successfully advanced through all rounds earning the championship when she spelled the word "M-I-S-C-O-N-C-E-P-T-I-O-N." She will advance to the regional competition. The runner-up for this year's event is Kaylee Eiland from Interlachen Jr-Sr High School.
The Pronouncer for the event, Joe Pickens, President of St. Johns River State College, commended all participants sharing that he felt the words were the most challenging he remembers for a district contest.
Emcee Sarajean McDaniel, Director of Leadership Development, shared the District's appreciation for Karl Flagg and his family for their contribution to the annual event.
Below are the participants who serve as the school level Spelling Bee Champions:
Browning-Pearce Elementary School- Logan Dollar
Crescent City Jr-Sr High School- Noel Vazquez
Interlachen Jr-Sr High School- Kaylee Eiland
James A. Long Elementary School- Damian Wylie
Kelley Smith Elementary School- Eily Daughtry
Melrose Elementary School- Willow Young
Middleton-Burney Elementary School- Tyree Glover
William D. Moseley Elementary School- Tianna Massey-Henderson
Ochwilla Elementary School- Persophone Frasier
Palatka Jr-Sr High School- Michelle Doyle
Putnam Academy of Arts & Sciences- D'Ahjia Atwater
Robert H. Jenkins, Jr. Elementary School-Kaitlynn Wilson
Q1. Roberts Jr-Sr High School- Dustin Pendelton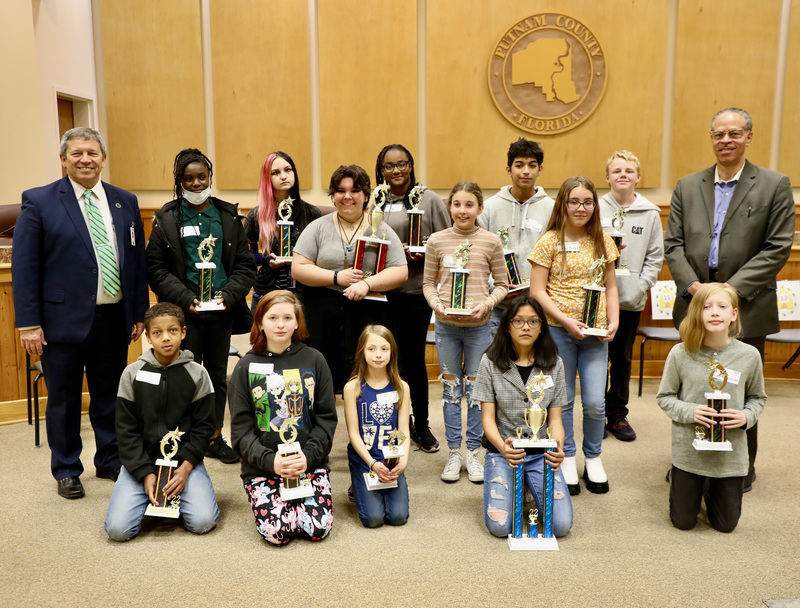 Dr. Rick Surrency, PCSD Spelling Bee participants, and Karl Flagg.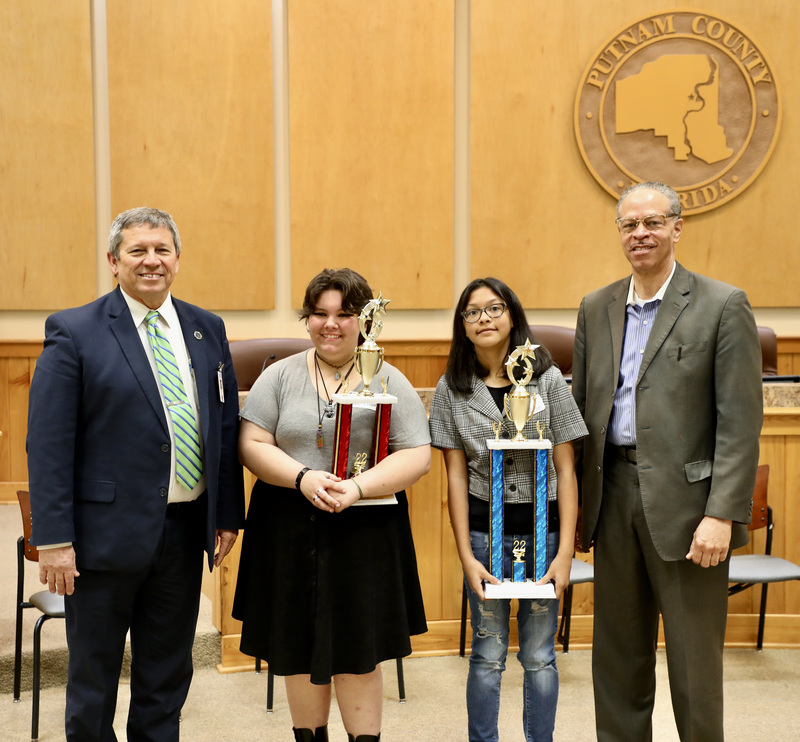 Dr. Rick Surrency, Runner-Up- Kaylee Eiland, Winner- Kaitlynn Wilson, and Pastor Karl Flagg.