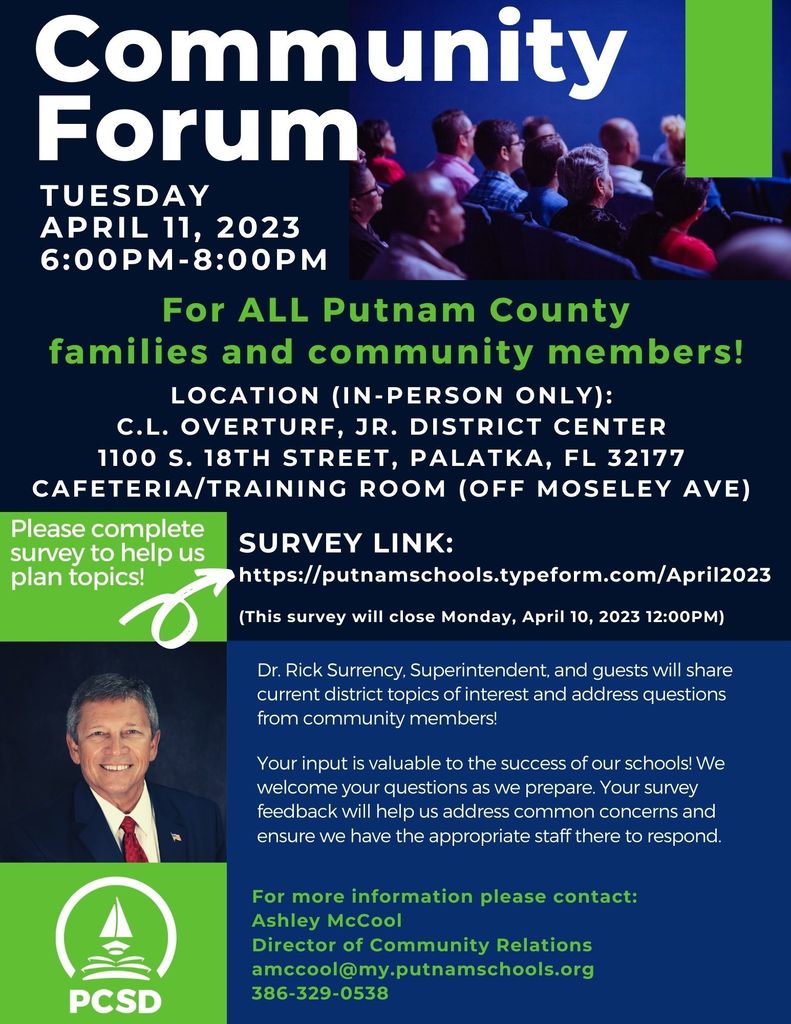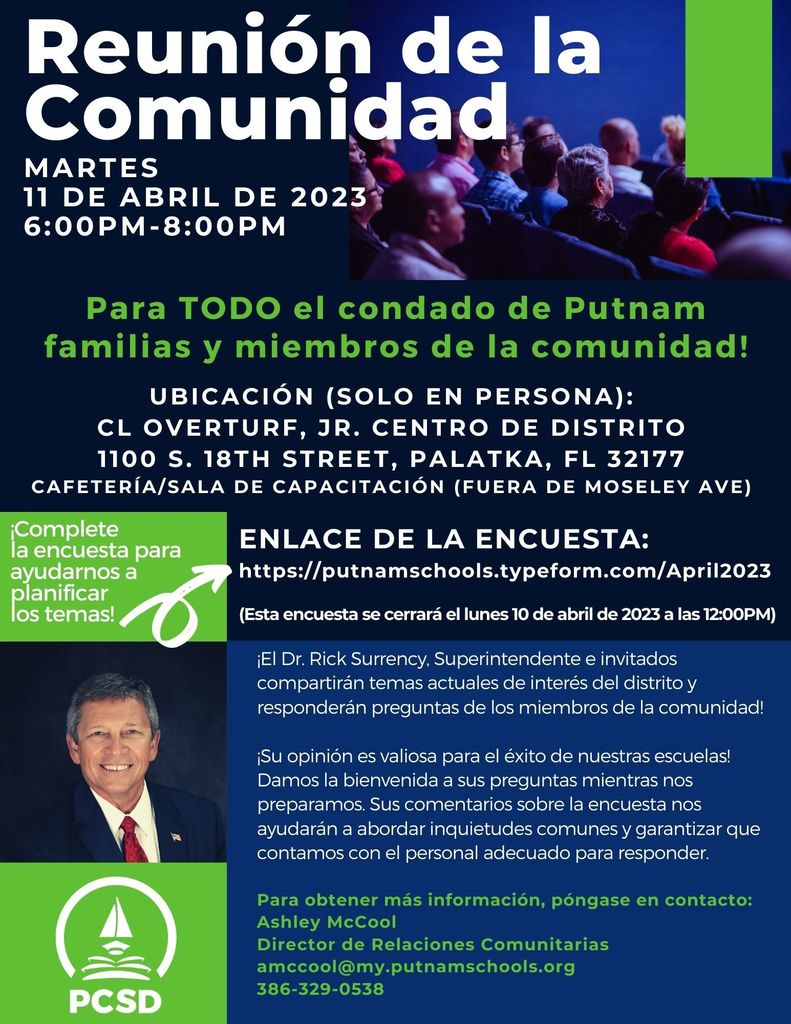 Florida Prepaid Enrollment is now open! Learn more about the most affordable way to save for college with inflation proof prepaid tuition plans by visiting
http://bit.ly/3XySOfM
#ProudtobePCSD #FloridaPrepaid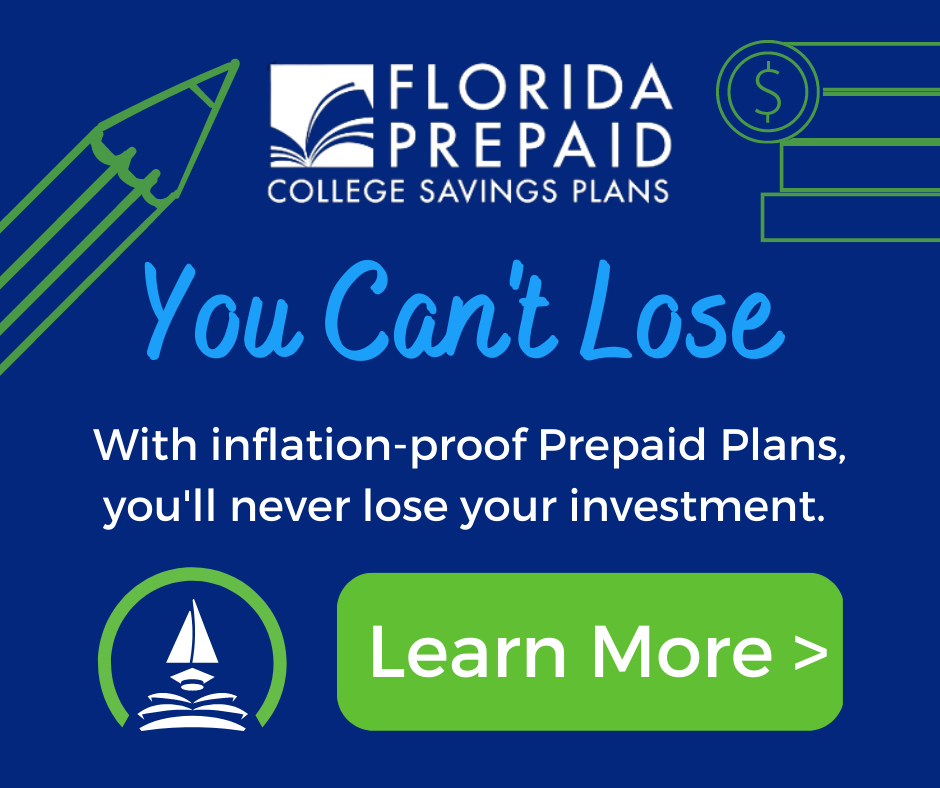 This message is for all Putnam County School District staff and families: Due to the increased speed of the incoming storm, local emergency operations and district officials have made the decision to dismiss students one hour early today, Wednesday, November 9th. Please prepare to pick your child up from school or be at the bus stop one hour early. Please know students who are in 3rd grade or lower will not be released at the bus stop without a parent or guardian present. Those students will be returned to their school for supervision until someone can pick them up. We recognize this may be burdensome for many families, and appreciate your cooperation as we are working to staff and open shelters for our community members. Thank you and stay safe!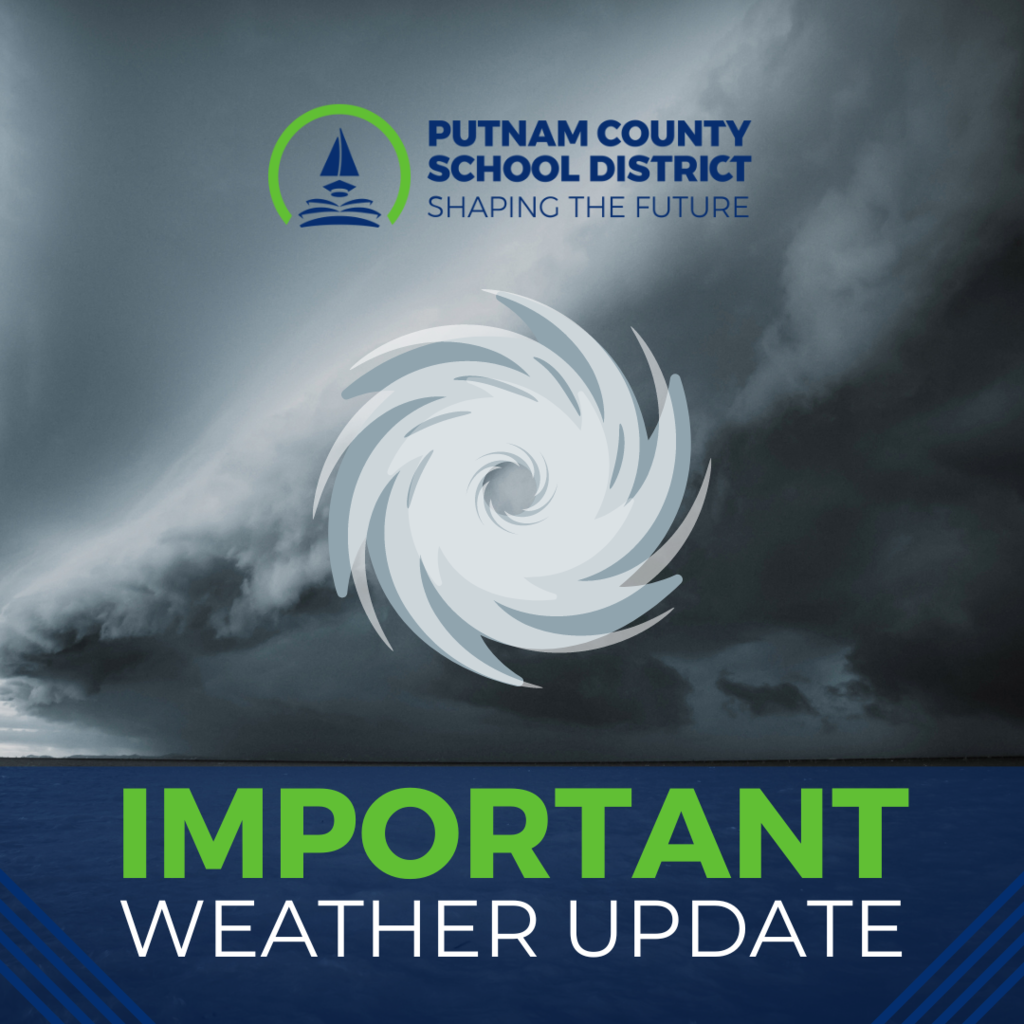 All schools in Putnam County will be closed on Thurs., Nov. 10. All after-school activities and athletics are cancelled at the end of the school day, Wed., Nov. 9. Fri., Nov. 11 is a scheduled holiday for Veterans Day. We expect to have all schools open for students on Mon., Nov. 14. The following shelters will be open for the community beginning Wed., Nov. 9 at 6:00PM: Ochwilla Elementary School, Kelley Smith Elementary School, Browning-Pearce Elementary School, and Middleton-Burney Elementary School. Please follow Putnam County Emergency Management for ongoing information about the storm and shelters at: EOC.Putnam-fl.com. Thank you and stay safe!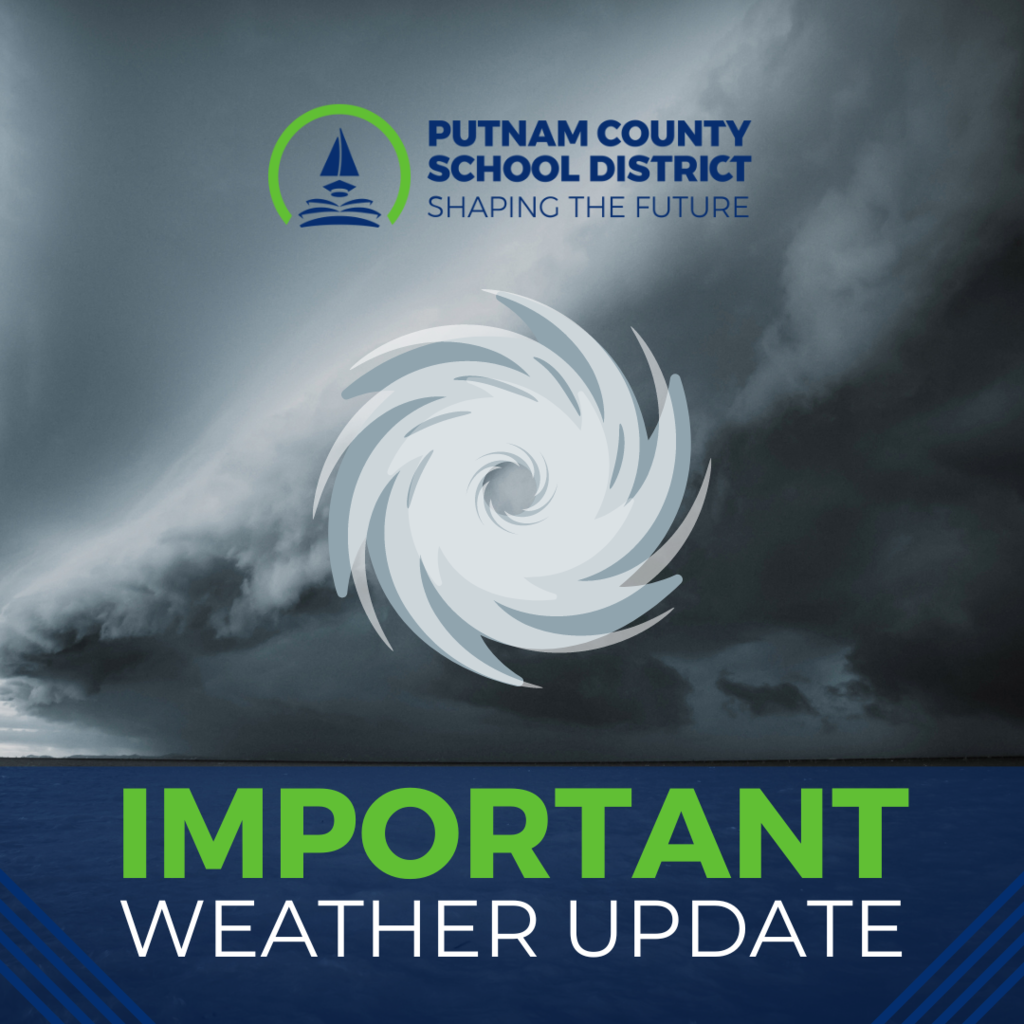 PCSD EXCEL students are assisting with the Spooktacular Community Event at the Ravines on Saturday, October 29th! Students can save by purchasing tickets ahead at Palatka Jr-Sr High School for $4.00.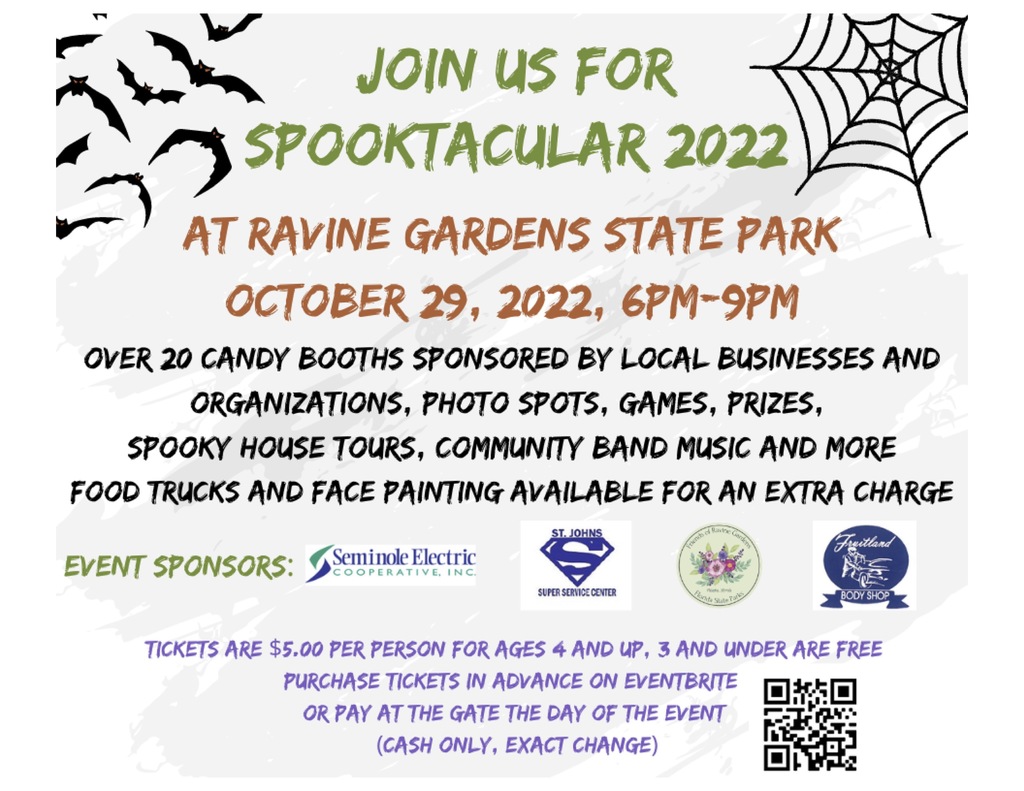 Don't miss the PCSD Robotics Kick-Off for 2022-23 at PJSHS this Saturday from 9:00AM-3:00PM! #ProudtobePCSD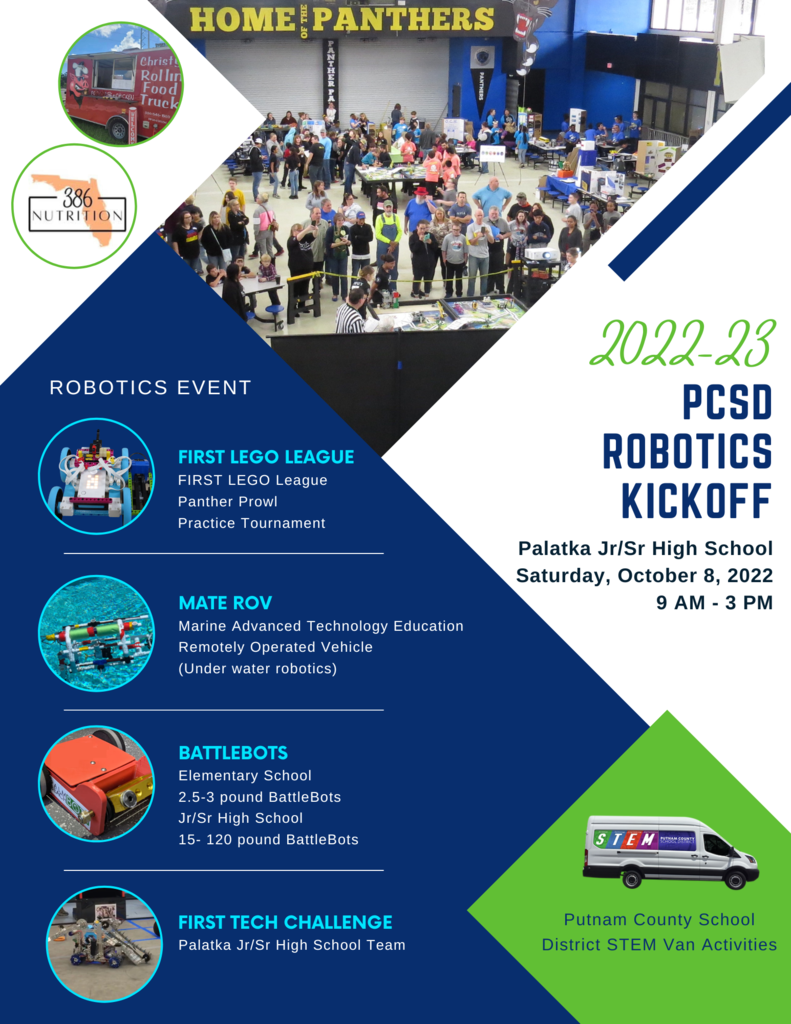 School and all activities resume Monday, October 3rd! Thank you to the PCSD staff for getting our schools ready after Hurricane Ian. #ProudtobePCSD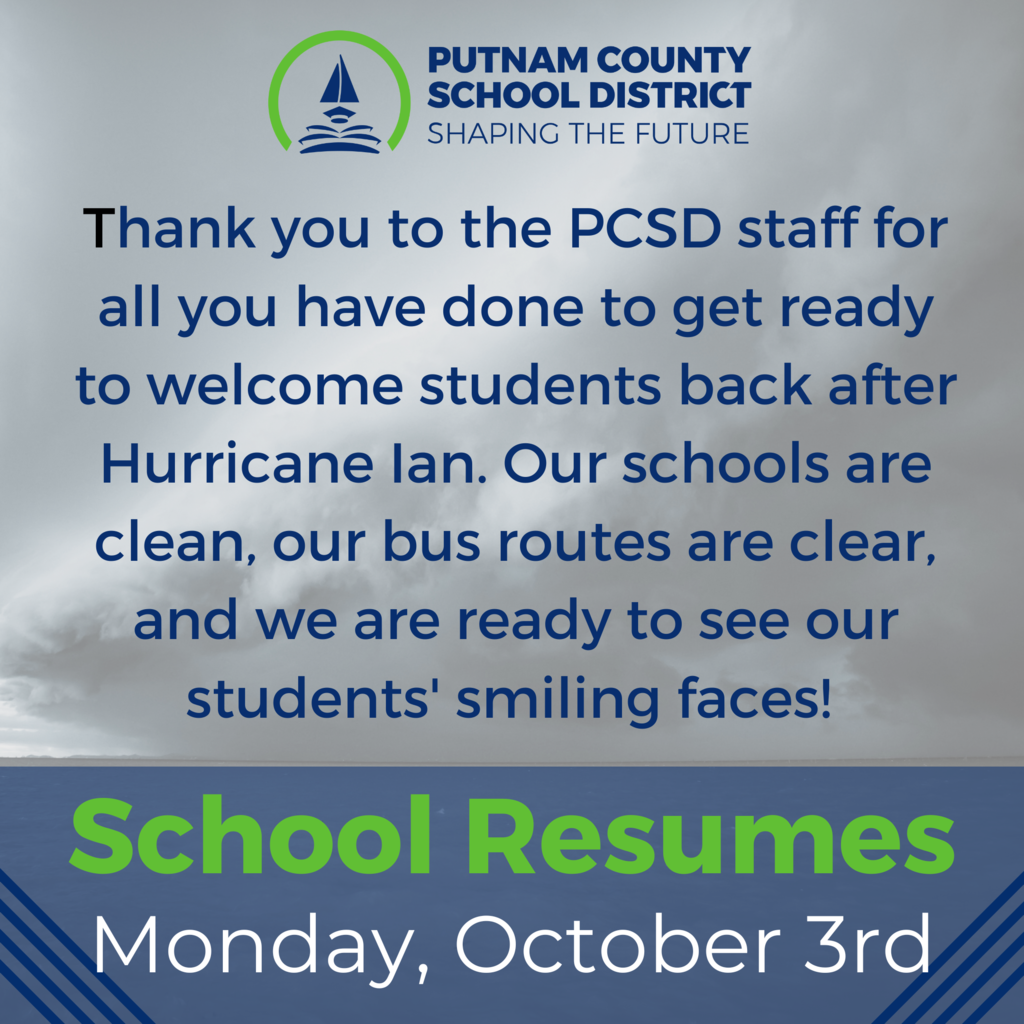 All shelters have been closed at this time, and residents have returned safely to their homes. Thank you to the PCSD staff and volunteers for their support to our community during this time of need. School resumes Monday, October 3rd. Please stay safe throughout the weekend.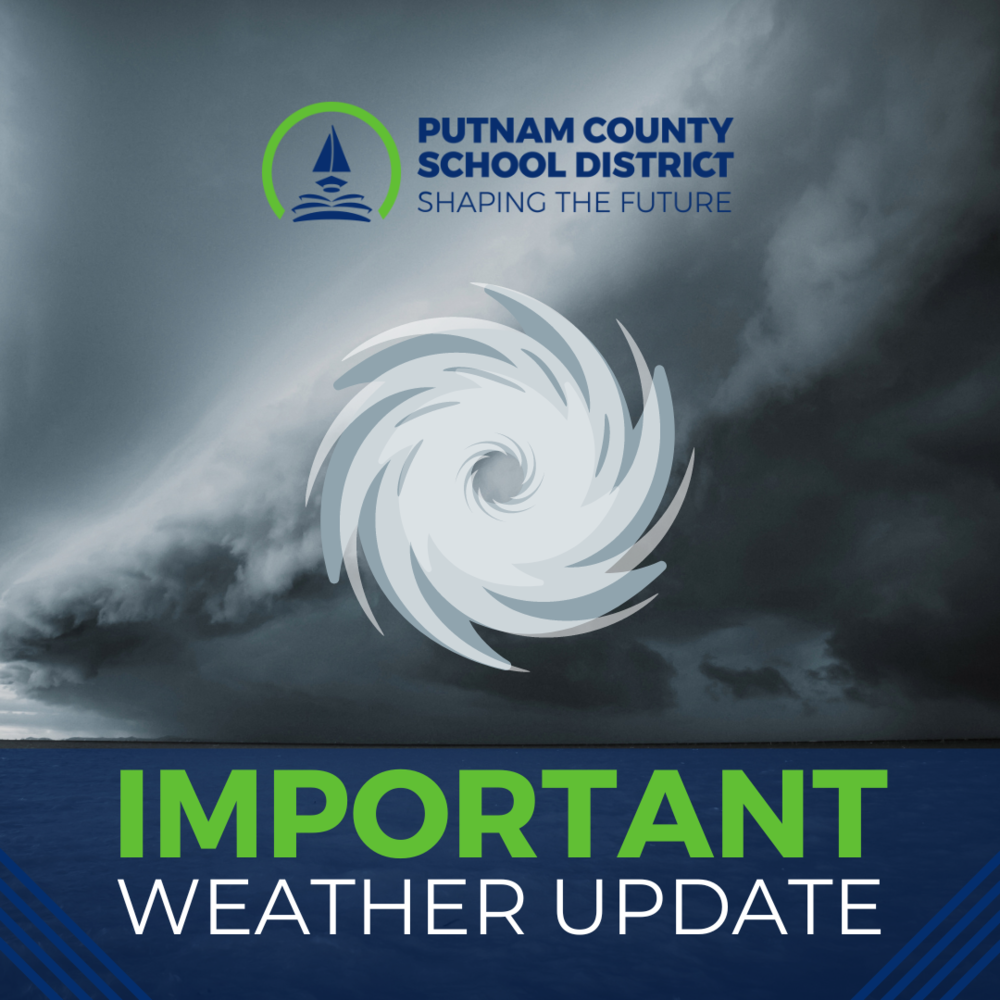 The shelters at Jenkins Elementary School in Interlachen and QI Roberts Jr-Sr High School in Florahome are being closed at this time. Anyone needing shelter services in the west end of Putnam County should go to Ochwilla Elementary School.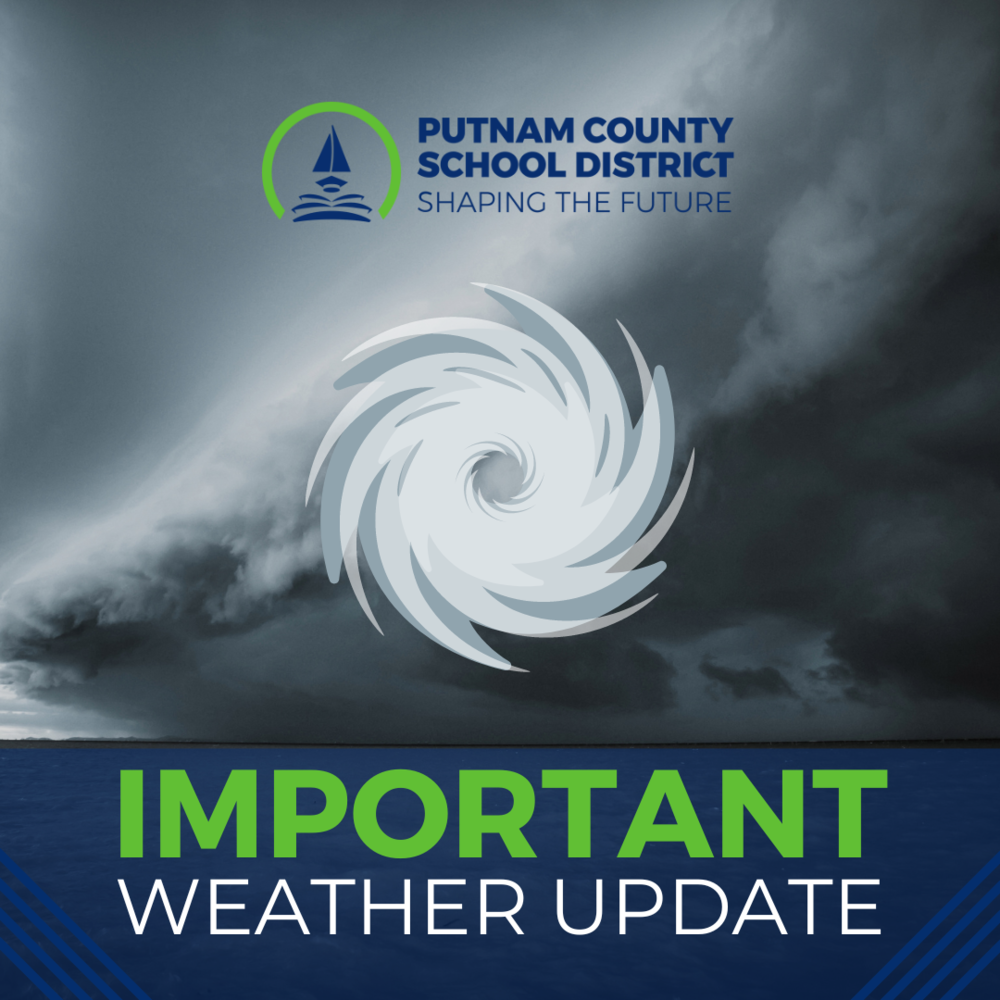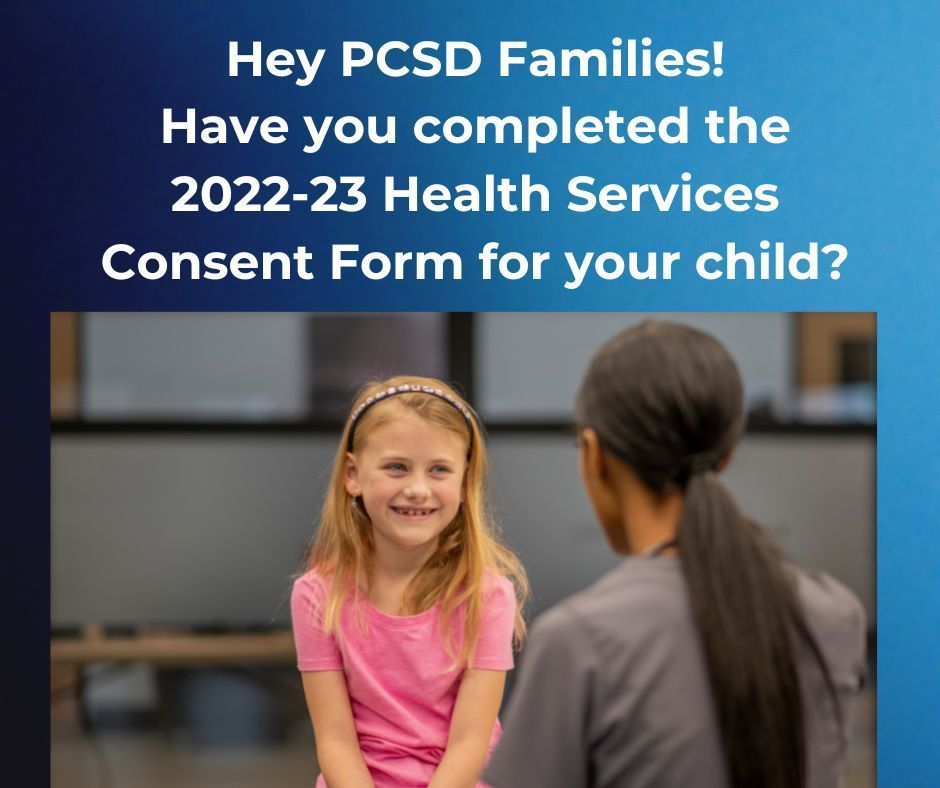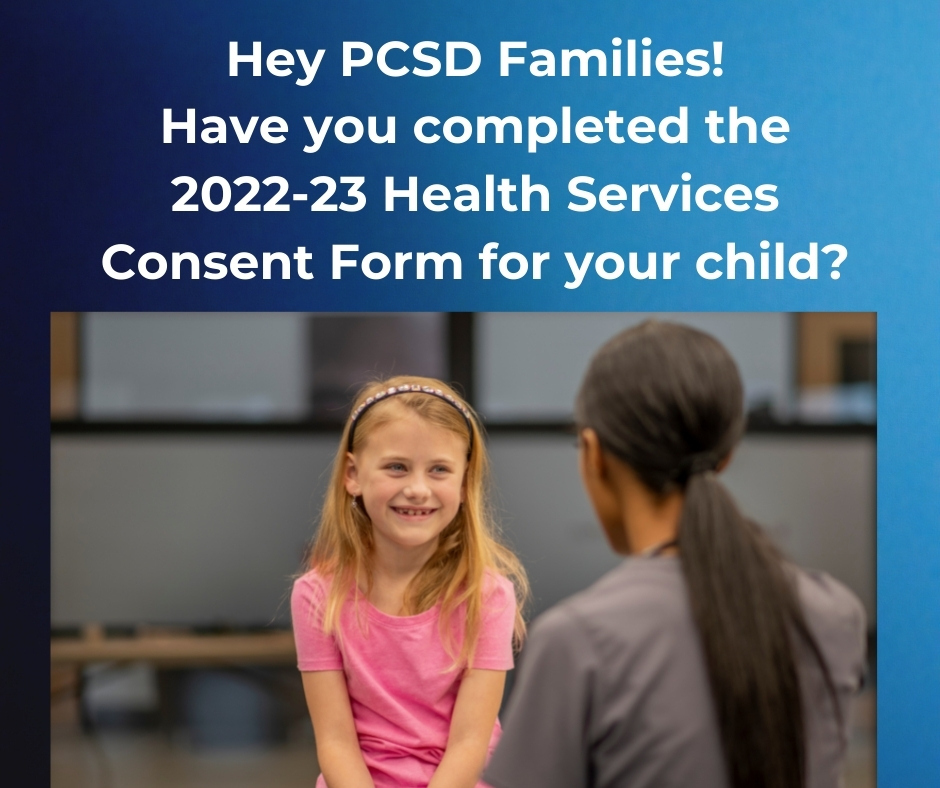 Message from PCSD regarding the tragedy in Uvalde, Texas: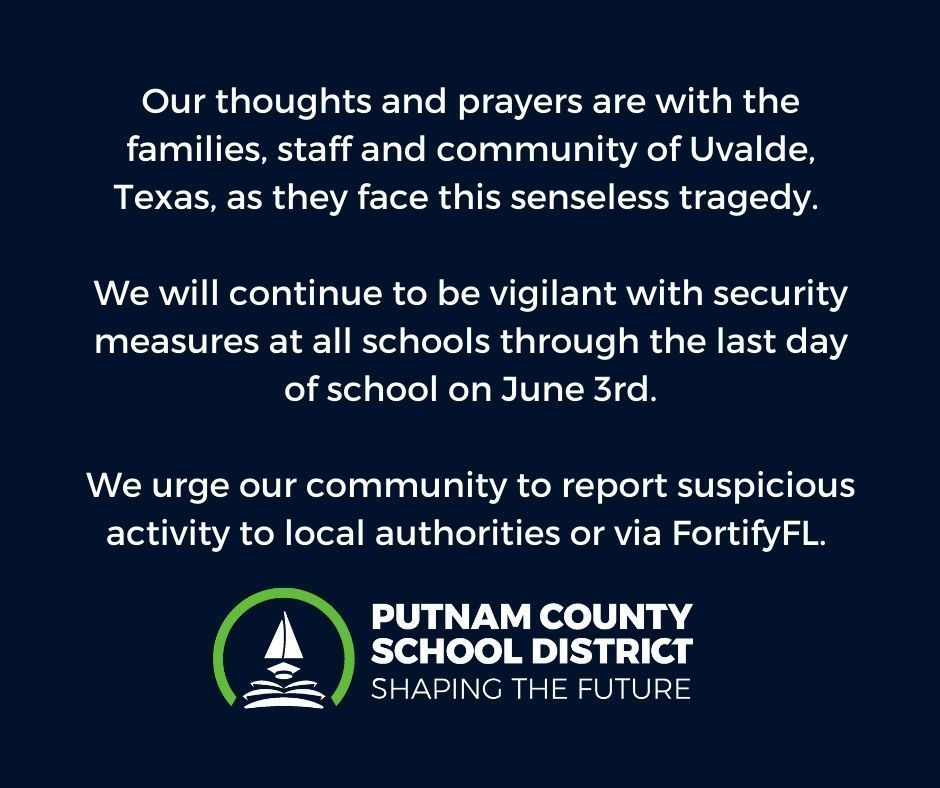 Message from PCSD regarding the tragedy in Uvalde, Texas: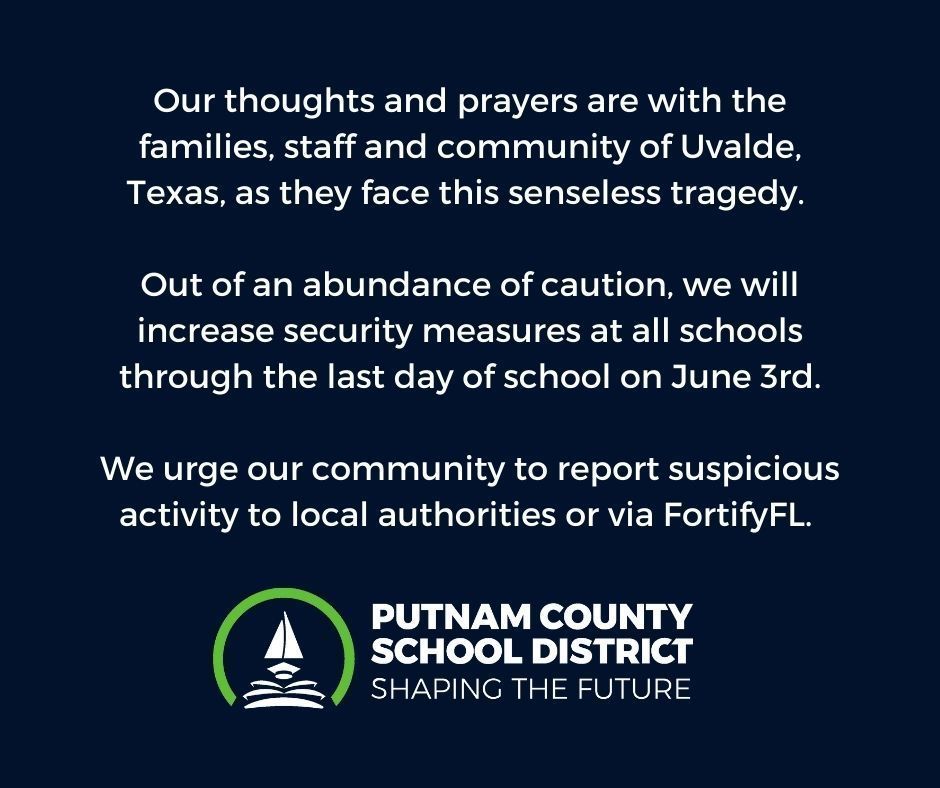 PCSD would like to thank all of our health care professionals who serve our students each and every day! #ProudtobePCSD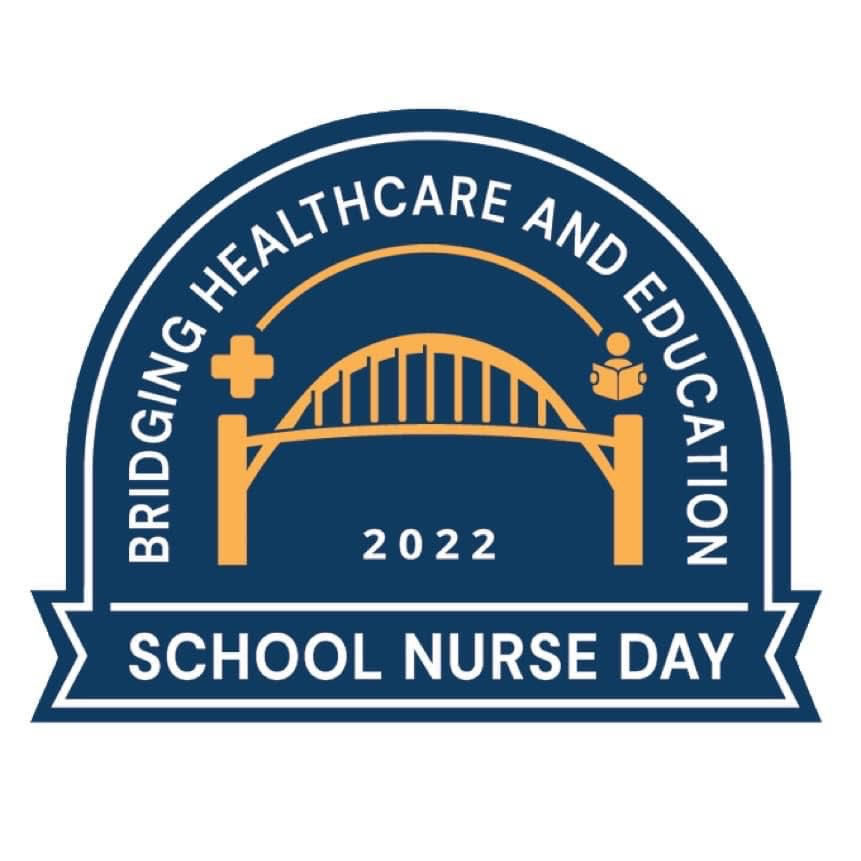 The Florida Heiken Mobile Eyecare Unit will be in Putnam County May 9-13, 2022, offering comprehensive eye exams and glasses to students who qualify. For your child to participate in this NO COST program, please apply online at
www.floridaheiken.org
by April 15, 2022.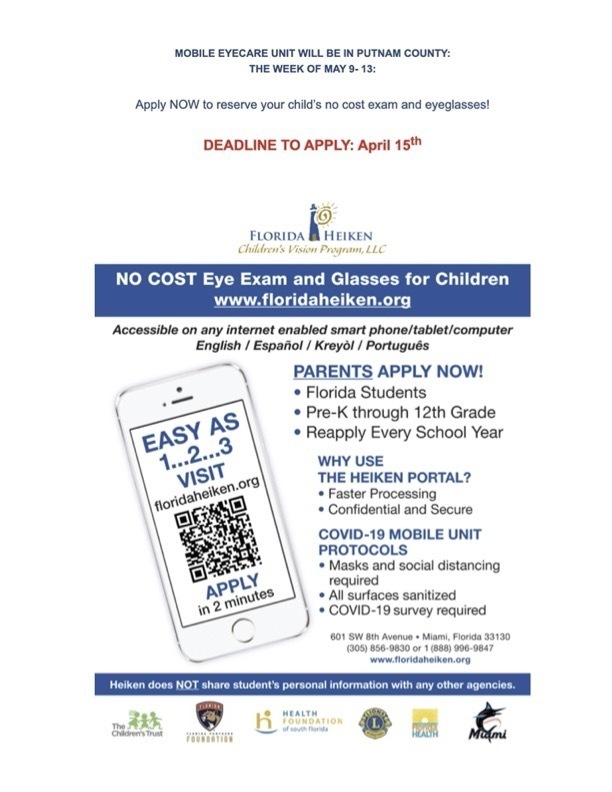 2022 PCSD Graduation Dates Announced!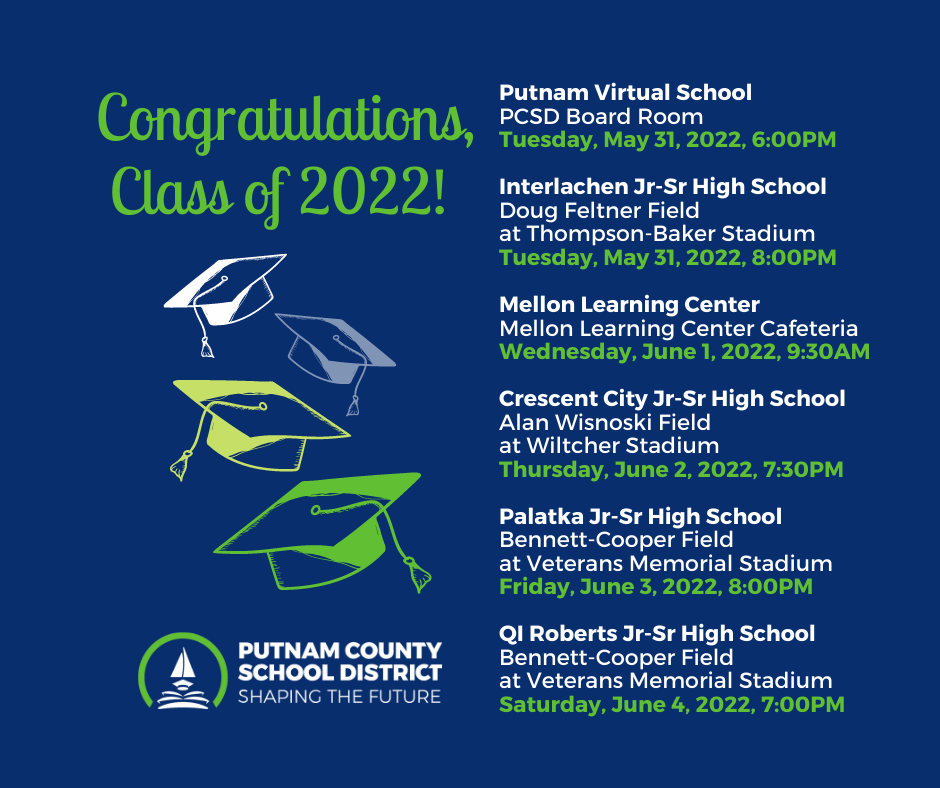 PCSD School Counselors are shaping the futures of our students- we are grateful for their constant dedication to our students and families! #schoolcounselingweek #proudtobePCSD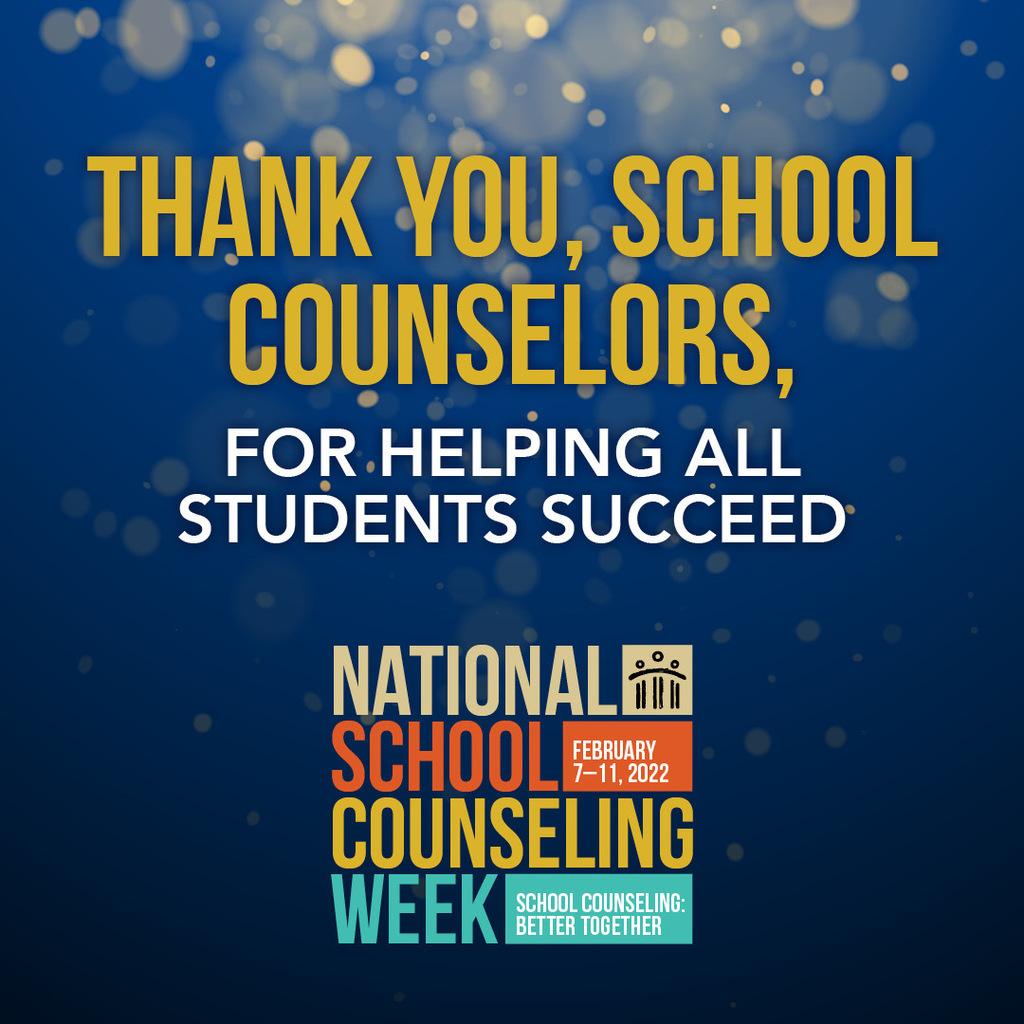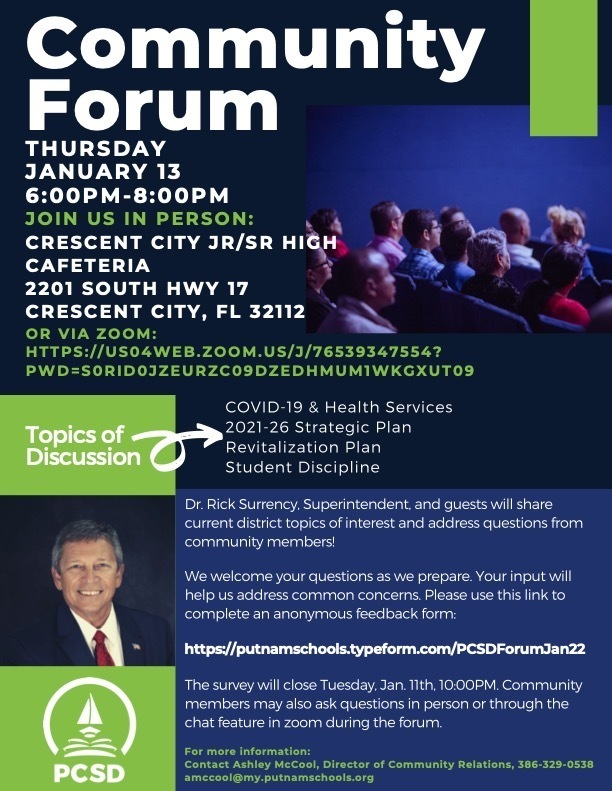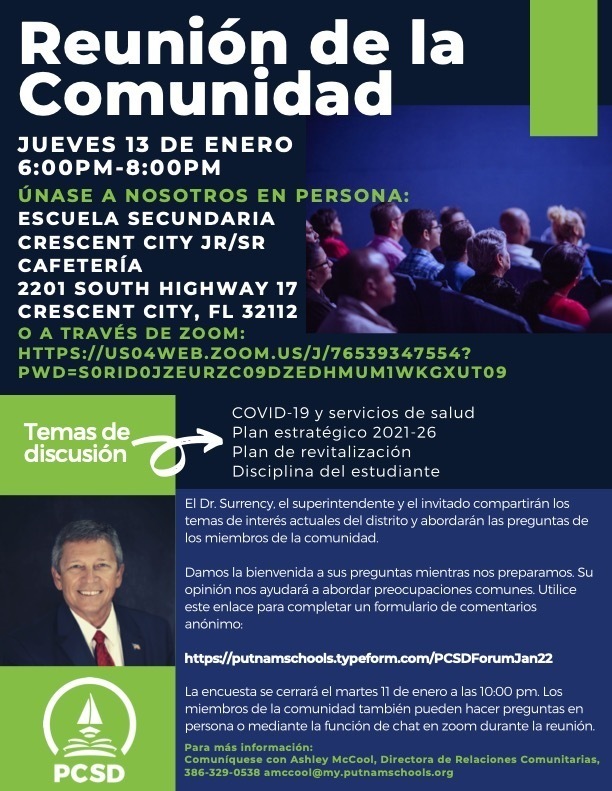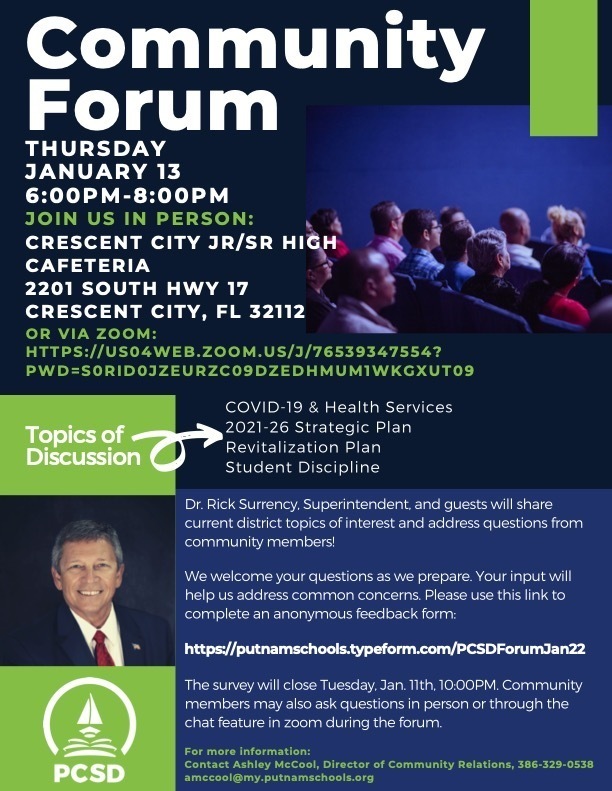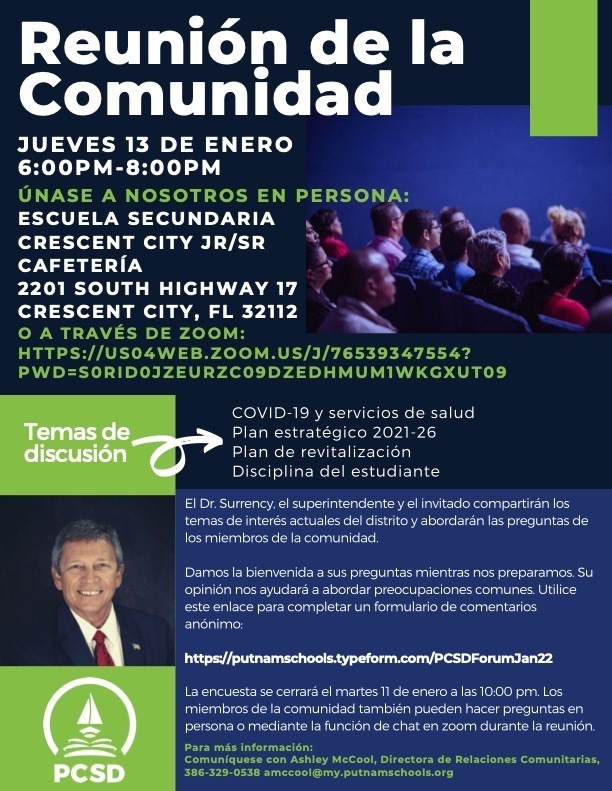 Girl Scouts: Fall Fun with STEM Saturday November 6th from 10 - 12PM at Ravine Gardens State Park Register today:
https://bit.ly/FallFunSTEM
ALL GIRLS K-12 that are residents of Putnam County are welcome! No membership is required.